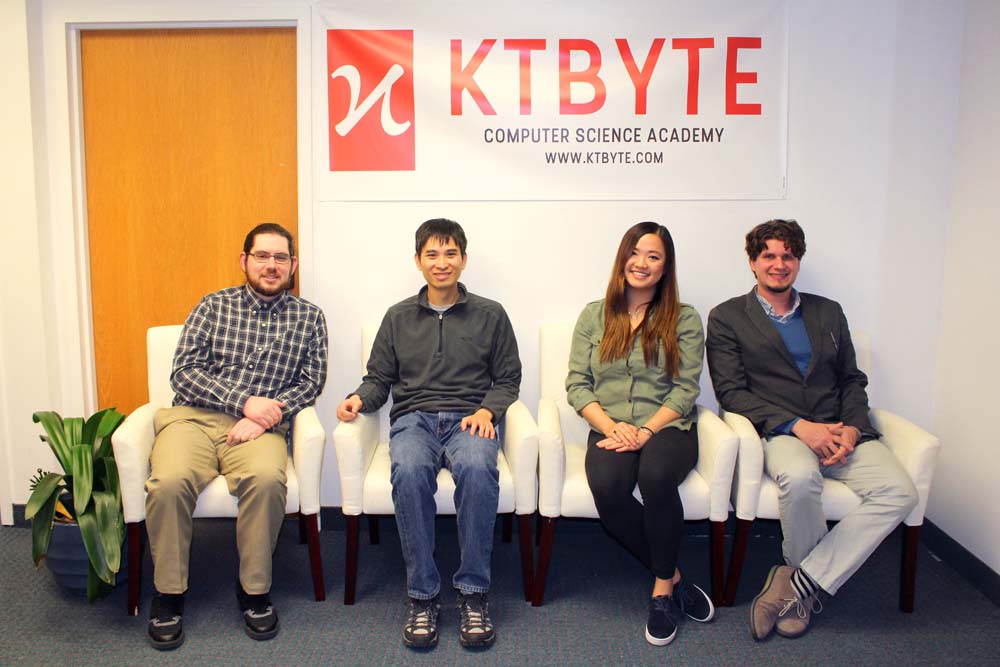 Our Story
KTBYTE's Home Office is located in Lexington, MA and is a startup founded by several Cornell University Computer Science graduates who dreamed of designing academically superior quality Computer Science (CS) education a reality for students worldwide. Our staff develops the curricula, technology, and builds and establishes relationships that ensure a seamless experience for all students - novices through experts! Our instructors are devoted to offering an unparalleled level of preteen, tween and teen computer science education. Students who enroll hail from a diverse background of experiences across the globe. Our courses offer elementary, middle and high school students across the globe a unique, innovative and fun computer science education.
Open New Doors With The Language of Coding
Why is Computer Science/Programming Important?
"Everybody in this country should learn to program a computer, because it teaches you how to think." -Steve Jobs, former Apple CEO
Improves abstract thinking, problem solving, and problem decomposition.

Leads to increased job opportunities. CS classes are the largest enrolled classes at Harvard and Yale, attended by students from all majors. CS has the highest median salary major as well.

Helps students become more well versed using computers.

Encourages higher academic performance
Why Should Children Learn to Code?
"Teaching young people to code early on can help build skills and confidence and energize the classroom with learning-by-doing opportunities." —Richard Branson, Founder, Virgin Group
Students as proven by science, learn a language faster and better while they're young.</li>

Students in the elementary school level have less of a time restricted schedule than they may as they mature.

An empowering skill that allows them to confidently create, problem solve, and form solutions in a world of limitless possibilities.

They will have a better chance to pass the Computer Science AP test to help them with college applications.
Helps students become more well versed using computers
Not All Online Classes Are Equal
Many students who have switched to online classes due to the COVID-19 pandemic are using webinars, such as Zoom, Gotomeeting, Hangouts, or Skype. Often these "online classes" do not offer the dynamic interpersonal and individualized live instruction like the integrated digital classrooms at KTBYTE provide with the nurturing and highly knowledgeable KTBYTE teaching staff!

See student using pencil/mouse/keyboard (Prevent distracted students)
Can unmute and hear student
Trained specifically to bring learning to life online
Can see student progress every second (See all student workspace/screens)
Can interact with all workspaces simultaneously
Speak questions whenever they want
Hear other students (Even when doing independent work)
Immediate automated assignment check (Student work is checked while they work)
No software / Only web browser required
Multiple class time slots
Live Help "Student Help Hours"
Login to see student work
Open response homework (Proof of problem solving skill)
Open ended projects (Proof of creativity)
Our Unique Class Format
Enroll in our live online webconference classes from anywhere in the world!
Webconference allows personalized instruction from teacher
Eliminate the conflict of needing to travel to the class
Teacher can see the screens of all students at once
Small Class Sizes with 1:8 Teacher-to-Student Ratio
Individualized 1:1 Attention
We offer in-person and online classes globally.
To ensure 1:1 attention, large class sizes have teaching assistants
Larger classes have teaching assistants for a more personalized classroom experience
In-person classes for beginner and intermediate levels
Week-long camp programs as well as online semester class offerings